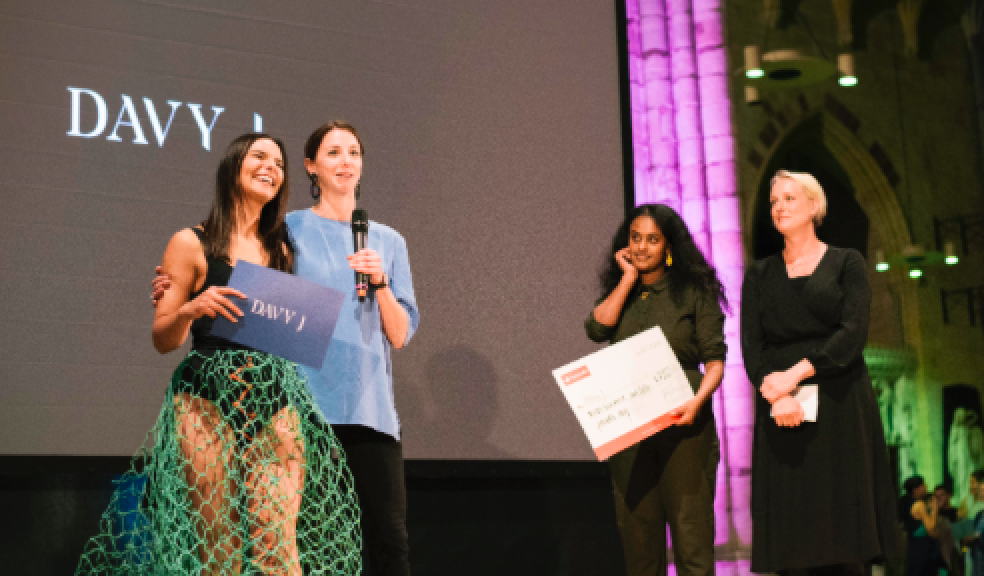 Skirt made from discarded fishing nets wins Sustainable Design Awards
Saturday saw hundreds of people pour into Exeter Cathedral for an event as dramatic as its surroundings. The city's first ever Slow Fashion Show, hosted by Exeter-based ethical fashion and lifestyle brand, Sancho's, and InExeter, was the flagship event of what has become an annual affair - Style In Exeter Week. Over 500 people flocked to the Cathedral from Exeter and beyond to learn about what Exeter has to offer when it comes to sustainable fashion.
Business Improvement District Manager for InExeter, Ann Hunter, says "We are delighted to see so many people from Exeter and beyond express such a keen interest in what our city has to offer in terms of sustainable fashion and living. There was a waiting list of people hoping to get in from a week before the event. We hoped the event would be popular, but the response has been beyond our expectations".
When InExeter approached Sancho's to organise and execute the Slow Fashion Show, Sancho's Owner and Creative Director, Kalkidan Legesse, also saw a bigger opportunity to showcase the talent of the region. Legesse, who started the sustainable brand with her partner in 2014, says "we know we live in a part of the country that is getting more switched on to the idea of living sustainably. We also know that throughout the South West there are incredibly talented and inspiring designers whom we wanted to give a platform, and so the Sustainable Design Awards were born."
Thirteen designs were shortlisted that met the strict criteria of entering the awards, which were to use sustainable materials; consider how the entry could have meaningful impact to combat fast fashion if production were to be scaled; and/or if the entry could provide a creative solution enabling us to move into a more sustainable future. British sustainable swimwear brand, Davy J who are based in Newton Abbot, walked away with the winning £750 prize money thanks to their innovative stance. The audience, who were the judges of the award were evidently impressed not only by the skirt that was made from discarded fishing nets, but by the swimming costume worn underneath, which came from Davy J's first collection.
Founder of Davy J, Helen Newcombe, explains, "our first collection uses 100% regenerated nylon yarn from waste, including spent and ghost fishing nets. An average of 640,000 tons of fishing nets are left in the oceans every year, making up 1/10 of all marine litter. For every ton of waste nets collected, there is enough nylon regenerated to create more than 10,000 swimsuits." Making suits that are designed to last longer, Newcombe hopes Davy J will be able to "fight the trend of throwaway fashion".
Runners up, who each received £100 each were Storm in a Teacup artist and designer, Lisa Tricoteuse; fashion knitwear textile designer, Leanne Callon; and Exeter based advocate of everything handmade, Arrietty.
In the lead up to the highly anticipated Sustainable Design Award catwalk, guests were treated to two catwalks containing day and evening wear for men and women from Sancho's, Finisterre, Zebel, Moko, Chandi Chowk, My Ex Wardrobe, Busby & Fox, and Lorna Ruby. Modelling the mix of iconic and treasured local brands were Miss Devon 2018, Clara George; body positive model, Essie Dennis; students from the University of Exeter's Fashion Society; and even some of Sancho's customers, who together showcased sustainable garments for all ages and shapes.
Though many would have come excited to see the catwalks, the event was also used as an opportunity for people to learn and interact with what sustainable living can mean and look like. Exhibitors included Exeter College, international charity Solar Aid, and Sails and Canvas - a Tophsam based business who have curated a collection of lifestyle products made from upcycled sailcloth and marine canvas. The Workshop area had vegan and cruelty free cosmetic brand, Lush, teaching guests to make their own bath bombs, alongside holistic healthcare provider, The Little Wild, showcasing how you can make a skincare routine using everyday resources, such as coffee. Brought back from the hugely successful Fashion Revolution Week held at Sancho's in April were a Clothes Swap, and clothing repair and rejuvenation with Bunyip - embodying three of the most crucial lessons of sustainable fashion - repair, reuse, recycle.
Reflecting upon the evening, Legesse says, "the night was everything we had hoped for and more. My wish is that everyone who attended or watched on social media will have seen that slow fashion is the future of the industry and that they will will think twice and use their power as consumers to support brands and organisations that are working to make a difference."
For photos of the event and to see all entries of the Sustainable Design Awards, follow Sanchosshop on Facebook and @wowsancho on Instagram.