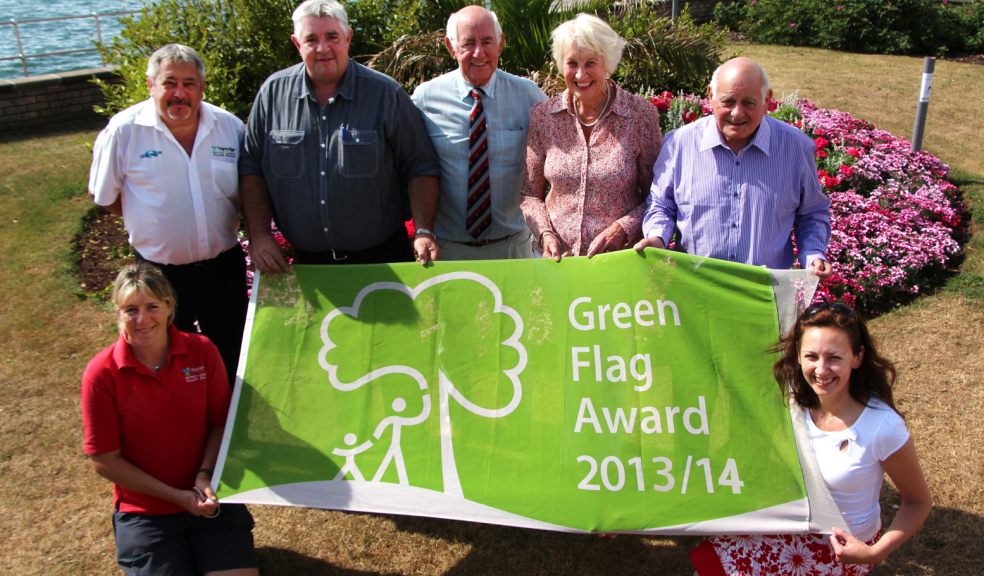 Green Flag success for top quality green spaces in Teignbridge
Teignbridge has once again scored a hat trick in the prestigious Green Flag Award scheme.
The top quality trio, Decoy Country Park and Courtenay Park, Newton Abbot, and The Den, Teignmouth, have picked up the prestigious accolade, confirming them as among the best parks and open spaces in Britain.
The Green Flag is seen as the national benchmark for quality parks, and to win an award a place must perform well against eight set criteria:
• A welcoming place
• Healthy, safe and secure
• Clean and well maintained
• Sustainability
• Conservation and heritage
• Community involvement
• Marketing
• Management
The scheme started in 1997, and Decoy Country Park became Teignbridge's first Green Flag Site seven years ago. It was joined by Teignmouth Den in 2008 and later by Courtenay Park in 2010.
Only parks and open spaces that are free to enter and open to the public are eligible for the award, which is run by environmental charity Keep Britain Tidy.
A Green Flag flying overhead is a sign to visitors that the space boasts the highest possible standards, is beautifully maintained and has excellent facilities.
All three sites have won Green Flag awards consecutively each year after their first award. This is a tough accomplishment as every park and open space has to reapply each year and show year on year improvements.
Cllr George Gribble, Teignbridge Executive Spokesperson for Communities, Recreation and Leisure said: "We are absolutely delighted to retain these awards. This is great news for these green spaces and all the residents and visitors who enjoy them. 
"Quality green spaces are essential to our quality of life and a lot of hard work goes in to keeping these places clean and welcoming. A lot of that is down to the dedication of local volunteers and our council workers. 
"This award is largely down to their dedication and I'd like to thank them for giving their time to keep our parks and seaside spaces looking great. We will fly the Green Flag proudly!"
Eight time winner Decoy Country Park is one of the most popular open spaces in the district, offering beautiful walks, play facilities and water sports, and attracting over a quarter of a million visitors each year.  It also provides a home to a BMX and skateboard concrete bowl skate park, and a popular wet-play area for youngsters.
Cllr Kelvyn Shantry, Teignbridge Ward Member for Newton Abbot College, said: "There is no doubt that Decoy Park is one of the Teignbridge jewels in the crown. The team of Rangers do a fantastic job in keeping the park in pristine condition and leading the many organised visits from schools and organisations from all over Devon.
"In the recent hot spell it has been a delight to see thousands of adults and children making full use of all the facilities Decoy has to offer. On a personal note I have also had the pleasure of fishing the Lake recently several times at first light  and at dusk when the peace and tranquillity on offer is amazing and my only company has been kingfishers and swallows! Well done to the Teignbridge team."
Courtenay Park, seen by many as a gateway to Newton Abbot due to its prominent position opposite the train station, won the Green Flag for the fourth year.  The park is characterised by its iconic bandstand, which hosts a variety of musical events from May to September, and it features a pond and fountain, a covered shelter, a train-themed play area and an educational sensory garden which is used by schools and disability groups.
Cllr Carol Bunday, Teignbridge District Council's Ward Member for College in Newton Abbot, said: "I was again very pleased to hear that two of the jewels in Newton Abbot's crown remain firmly in place. We know that we have something very special in these parks and this has now been confirmed once more by independent judges. I am sure that the many hundreds of people that use and enjoy our two parks will join with me in congratulating all those involved in making and keeping our parks to this very high standard."
Cllr Ken Lewis, Teignbridge District Council's Local Ward Member for Bushell in Newton Abbot, said: "I am sure that the whole of Teignbridge acknowledges the hard work our team puts into the gems of Teignbridge's great green spaces. This is evidenced by these awards. It is due to their efforts that Decoy Park attracts so many visitors from all over South Devon and everyone has praise for their efforts.
"With regard to Courtenay Park - what can you say other than "wow" - what an entrance to the town. Newcomers step out of the railway station and see such a magnificent welcoming sight. It's a peaceful haven in a vibrant town."
Teignmouth Den won the award for the sixth time this year, confirming its status as one of the South West's best quality iconic seaside resorts.  As well as offering open grassed areas, it features an award winning play area, traditional pier, adventure golf, a multi-use games area for sports including tennis, and a well-used skate park. 
Cllr Sylvia Russell, Teignbridge Executive Spokesperson for Health and Wellbeing, and Ward Member for Teignmouth East said: "Congratulations to all the staff who have worked hard to ensure that Teignmouth Den has retained Green Flag status for another year. This is a great achievement and underlines the importance of keeping our green spaces clean and safe for the enjoyment of residents and visitors, particularly with the bonus of such wonderful summer weather.
"Teignbridge knows how important it is to encourage people outdoors for a stroll or some kind of physical exercise whatever the weather and will continue to maintain our green recreational areas for the enjoyment of everyone."
Teignbridge District Council's Council Chairman Cllr Rosalind Prowse said: "I am thrilled that once more Courtenay Park, Decoy Country Park and Teignmouth Den have been awarded the Green Flag. I congratulate the staff on all the hard work put in to this achievement."
Green Flag Award Scheme Manager Paul Todd said: "We are thrilled to announce yet another record-breaking year for Green Flag Award parks and green spaces. A Green Flag Award provides national recognition for the hard work and dedication of all the parks managers, staff and volunteers who have helped to create these fantastic places for all to enjoy.
"Quality green spaces are absolutely essential to happy, healthy communities. They are fundamental to our quality of life, whether in cities, towns or villages. That is why it is so significant that we have given out more awards than ever before."